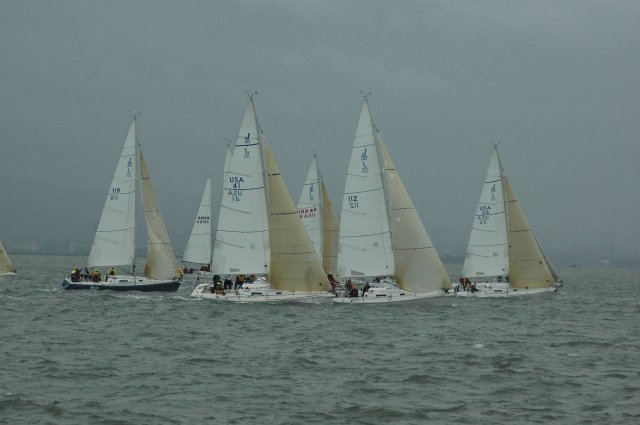 Roxanne Sweeps 2009 Great Vallejo Races
On Saturday May 2nd, 13 J/105s (the largest participating one-design fleet) started the race to Vallejo against an ebb tide and winds that would vary between 5 and 12 knots. Lead boats, Roxanne, Donkey Jack and Mojo duked it out throughout the most of the race with Charles James and crew aboard Roxanne finishing ahead of Donkey after 4.5 hours of racing the 21.5 mile course. Advantage3 ecked out Mojo for 3rd.
On Sunday all J/105 starters drag raced from start to finish, out the Napa River to the Richmond Bridge in blistery winds and a big ebb. Roxanne once again finished 1st while completing the 14.5 mile course in 1:43:40. Walloping Swede finished 32 seconds later with Mojo just 16 seconds behind her. The top ten boats all finished within 5 minutes of each other! Complete Results on http://www.yra.org/.
Cuchulainn Wins 11th Annual J/105 Toast Off
No hill is too high for the Mullen Family to climb. Not only did Jim Mullen (with microphone) MC the 11th Annual Toast Off, but Lynn was the official photographer and Kevin led the Cuchulainn Crew in Hiawatha Redux to 1st place (read all the verses here). The gathered crowd was astounded!!! The Mullen Family brought class to the Class! Walloping Swede Crew took second, followed by the Advantage3 Crew.
Photos available at the Photo Gallery. Sergei Zavarin (Ultimate YachtShots) has also posted some photo galleries and a video.