The First Annual Doublehanded Tandem-Baum Regatta took place on December 12, 2020. Below is a recap of the event along with some illuminating comments from the competitors.
From Ian Charles – Fleet Captain – J/105 Bay Fleet One (SF Bay):
Hello Tandem-Baum Regatta Racers: Thank you for taking part in the first annual Tandem-Baum Regatta on Dec 12, 2020. Congratulations to all participants!

Ryan Simmons & Brent Draney on Blackhawk took the win, followed by Justin Oberbauer on Strangelove and Bill Woodruff on Russian Roulette.
RESULTS:
Ryan Simmons, Blackhawk
Justin Oberbauer, Strangelove
Bill Woodruff, Russian Roulette
Tim Russell, Ne*Ne
Bruce Stone & Nicole Breault, Arbitrage
Charlie Pick, Box of Rain
Tom Struttmann, Arrived!
Greg Arkus, Streaker (RET)
Comments from participants:
From Brent Draney – Blackhawk
On the start, the secret was out to start at the pin, which was upwind and uptide as the R/C boat had drifted west. Blackhawk was the 3rd barger, and we threatened a late hook to help move the boats down the line. Bruce held up for a second-row start and still ended up as a blocker with a very good start. You have to be careful not to get too far advanced, or you can't get down to the mark.

The wind was up and down a lot. I adjusted the jib halyard twice before the first tack, and I played the jib sheet a fair amount.
Blackhawk had the advantage of coming over from SFYC, and we passed close to Harding on the way. The ebb was on and ripping much more than I expected early on. Ryan and I chatted about the criteria for leaving the starting line on port or starboard and whether or not to play the reverse cone or go to Angel Island. We thought with the stronger early ebb on the North side that there would be a significant risk of running out of wind before getting to the relief. The tide chart you show with current out of the South Bay at Alcatraz is what I expected with port tack lee bow up close to Alcatraz. That was the play we were hoping for and expected to get significant relief and a leebow.

We were starting to lose range to Arbitrage and crossing into stronger ebb, and I was getting nervous that we would miss the reverse cone. Blackhawk tacked first to Alcatraz, giving up a controlling position to NeNe, but it turned out to be a really bad spot with light air. We barely crossed Bruce when I thought we were a good three boat lengths. NeNe followed and covered in more pressure and on the inside of lifted puffs. They put five boat lengths on us in about 2 minutes, taking a solid lead.
Strangelove joined us while Bruce and Nicole continued on starboard, which was a significant gut-check. Blackhawk took another short hitch to the North to get more wind and flipped back to port just shy of a tideline. NeNe came over and covered with a slam dunk, and we opted to pinch up out of Tim's gas. Two more tacks would be really expensive, and Tim is a fast footer meaning a down option is not likely to work. We got a clear high lane, and NeNe sailed fast to the reverse cone relief. Strangelove avoided the extra tacks and was in the best current relief but less wind. It looked like it helped or was at least break even. The port tack lee bow current was not what we saw at Alcatraz. The current was definitely North to South, and it accelerated from 2 to 2.8 kts. My guess is we had a little runoff from the rain, and the North Bay ebb came early and stronger.
Both NeNe and Blackhawk had to tack to get around little Alcatraz, and NeNe's tack back to the rock looked marginal and not worth two tacks as they couldn't clear the island. Looking at Arbitrage while we were on starboard, they were way ahead of us with the left shift we had. If we crossed to Angel, we would be behind them. We chose to tack back to port and see if we could find the lee bow south bay current.
Tim may have seen the same thing as he let us go, and we got a couple of hundred yards of leverage to the South. For the next 10 minutes, we saw the current slowly clock to coming from the South, and it shoved us up under Tim. His 15 boat length lead closed to about 3. We waited for Tim to tack and followed him to round YRA-8 hoping for a downwind opportunity. Opportunity came fast. After a simultaneous set, we dug deeper, and NeNe had to rerun the kite tack line. We pulled a seven boatlengths to leeward advantage to bow even by the time they got it sorted.
We had some trouble balancing the wind direction vs. the wave action of the current of Blunt, and gave back 3 of those boat lengths by the time we were at Harding. We were feeling overstood but were planning a simultaneous jibe and lead back to Blackaller. We finally jibed as JC was dancing on the bow, trying to sort something out.
We were definitely overstood, and the chart plotter helped a lot to show us how much. Finding the mark was hard, and it was 1/2 submerged in the ebb. An early letterbox douse paid off, but we didn't have that much extra time. We sailed close-hauled to Anita Rock and then cracked off a bit to get closer to shore, tacking at the finish line at 12:47:00. I'm not sure if the current relief was worth the extra distance to finish at the club—I'd be interested in hearing what it was like at Angel Island.
Thanks,
Brent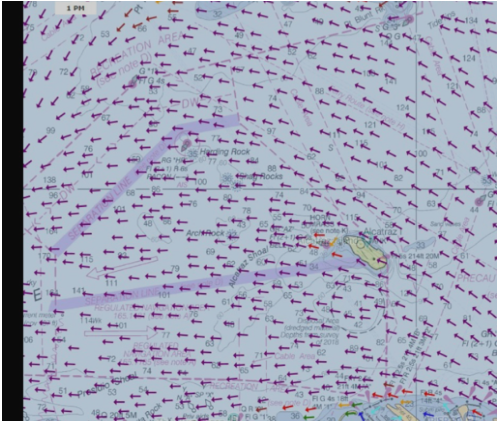 From: William Woodruff – Russian Roulette:
Congratulations to Brent and Ryan for the win. If you all are game, I would like to review the race a little. I'll start with the observations from my boat.

1. At the start, the pin end was favored. RR tacked to the line late and got totally shut out.
I was hoping the current would open a gap at the pin, but this is the J/105 fleet: not gonna happen.
We did a nice power loop and crossed at the pin, which seemed to pay off versus taking sterns. We were back in the mix in about 5 minutes, but we were not pointing well.

2.
a. Russian Roulette was off on sail trim. We figured out after the race that the jib halyard was left loose. We had to drive down quite a bit more than the other boats. Big forehead slap on that one, it was obvious.
b. Downwind we were not flying a great kite, but we still seemed to stay about even with Strangelove. Blackhawk and NeNe were too far ahead at that point.
c. Strangelove and Russian Roulette were pretty even upwind, Blackhawk and Ne-Ne drove away from us. I think we have figured out what was wrong on insight on what Strangelove should change.

3. Tactics upwind:
a. The top four boats tacked towards Alcatraz early. My thought was to tack towards Alcatraz and sail up into some current relief. I targeted the NW end of appears the other half of the fleet went towards Angel, what was the thinking there? I did not see much current relief at Alcatraz. We still had about 2 kts between water speed and ground speed, but decent wind. The current gained a southerly component and the wind shifted a little north, so port tack after very favored. I am attaching a current map from noon on Saturday.

4. Tactics downwind:
a. Nothing too complicated here. The main thing was to locate Blackaller (something that always seems too hard – why?!?) and making sure we put enough against the current to turn DDW to douse. Particularly important shorthanded – making sure you can drive down to help the douse. In hindsight, we should gybed earlier as we had to sail pretty hot near Blackaller.
5. Final leg:
a. We tried to stay closer to shore hoping for a little current relief. Again, we were not pointing well and got to watch NeNe sail up our backside. Strangelove out a little on RR, so had better trim, but NeNe was still superior to both of us on speed and point.
Thanks all for making this happen. RR had a great time today. Looking forward to more doublehanded races against other J105s.
Bill W.
From Nicole Breault – Arbitrage:
Despite separating ourselves back from the front group a fair bit by the time we rounded R8, the sailing on Arbitrage was a welcome break from cabin fever. We set up too high and late at the pin so had to settle for a few seconds delay while we waited for room to open on Blackhawk's hip. We had to work in point mode to stay there and were pleased with how long we were able to hang.
We had the cone in mind, and about the time the lead boats were tacking to port to cross us, we decided to play through a bit and enjoy a few minutes of open water.
The wind seemed better toward Angel, and we also thought the ebb would be less than it was. We got a nice header near Harding and tacked in comparably better pressure than the fleet heading to Alcatraz. In spite of the adverse water we were cookin' and I was feeling great. Still behind Angel we were pointing at the mark! But then we started talking about what to expect if we continued. The pressure looked great toward Point Blunt and so we went with Arrived for more relief. Then the picture changed. The Alcatraz boats emerged into the better breeze and water east of the island and we found the relief play ineffective and too far. We had to crack off to get to the mark as we sailed uphill through Ne*Ne, Blackhawk, Strangelove, and Roulette demonstrating their double handed spinnaker hoists.
Comfortably behind those four and comfortably ahead the rest, we thought about cleating the spin sheet and having lunch. But instead we decided to do some gybes. Playing a more 'inside' route, though not so aggressive as to cross the cone, we put ourselves in a safer position concerning the tide as we sailed into the lighter city front area. We closed up a lot of distance on the four boats we were chasing as they got swept a bit past layline – though that also may have been because Blackaller was hard to spot. Unfortunately, close is no cigar… we trailed into the finish with the last leg a veritable fetch.
I applaud Bruce for managing the pit tasks and singlehandedly turning the boat upwind while getting the main in somehow… I was busy taking forever to squirrel the kite into the forward hatch. In hindsight, tactically we should have stayed close to the pack, hipping up on Ne*Ne and staying ahead of Stangelove and Roulette. Next, having taken extra risk to gain more leverage in better pressure, and then looking good, we should have consolidated our gains and converged with the cone boats in the merge of South Bay flow and North Bay flow. Who knows, maybe we could have taken the lead or at least settled somewhere into the pack to play rather than chase.
Great sailing,
Nicole
From Bruce Stone – Arbitrage:
Congratulations to Ryan, and kudos to Ian for lending the Protector and to Don as our PRO. Let's do it again in January!
Bruce
From Charlie Pick – Box of Rain:
Guys,
Pitching in on this debrief, we had a good time out on BOR in my first double handed race ever! I had tried one of the Quarantine cups back in April but that was non-spin. So this was really our first and it went better than expected.
We certainly had some funny moments like the douse where I had to let go of the helm, come what may, to go up and release the halyard.
Tactics were our downfall. We totally missed the start thinking A buoy was X but we had decent speed towards Alcatraz and started gaining boats. We were in the mix at Alcatraz and played the cone well and pretty much as I expected. But then we decided to tough out a cross to Point Blunt with the idea of getting more breeze and splitting the difference btw the North Bay and South Bay ebbs. Alas it didn't work because the South Bay ebb ruled, but we wound up making a clean finish and sharing a sweet day on the bay with you all.

Charles Pick
Reply from Bill W.:

Charlie,
If it helps, on my boat we have settled on the following for the double-handed spin douse. Wrap the tack line on the primary winch, open clutch, and hand tail to driver. Wrap spinnaker halyard on the cabin top winch, open clutch, and hand the tail to driver. We have tried both handing the spin sheet to the driver or letting the bowman take it forward, both seem to work equally well. The bowman stands in the hatch and grabs the tack retrieval line (we have a second line attached the tack). In this position, they are very secure and can use both hands to work the sail. On douse, the driver heads down and blows the tack line. Once the tack flies up about five feet (well clear of the pulpit), the sheet is blown. The bowman collects the foot of the spinnaker like a madman until he has both the tack, clew, and the bottom of the sail in a bear hug. What works well for me is to pull the tack to my body and stand on the tack retrieval line. Then pull on the foot of the sail until you have the clew. This forces the sail into a nicely depowered tube and you can relax. The halyard is then dropped as the bowman, hugging the kite, drops down into the hatch onto his butt and then swims the rest of the kite down. If things start going south, the bowman can just drop in the hatch early with the tack and start pulling, concentrating mostly on the foot. Once down, the three corners are lifted back up and the kite is ready to go up again. The only trick is to make sure the lazy spin sheet along with the jib sheets are around the hatch on the side of boat away from the douse – you have to pull the kite "under" all the sheets or it will get hopelessly wrapped up. Once you practice this a little, the kite drops very easily and you don't have to do any prep to launch it again. I'm sure all eight boats doused in eight different ways, but this works well for us.
Bill W.
Reply from Brent:
I am very partial to a letterbox douse shorthanded as I can douse the kite and have it safely below without ever leaving the cockpit. It is the safest douse but also one of the slowest and requires rerunning all of the gear for a reset.

It's the best last douse. Not a good choice if you have to reset quickly. If you ever have to take the kite down solo it's the way to go. If you've never heard of this you aren't alone. Youtube only has 3 videos. Here is one:
https://www.youtube.com/watch?v=ktd14qOyE3o
Take the lazy sheet under the foot of the main and over the boom. Spike the tack and pull the kite in over the top of the boom and into the back hatch. The boom keeps the kite out off the water and you have it snuffed against the main to keep it from the breeze. Leaves a mess to deal with later after you get the sails in and driving upwind.
Brent
From Justin Oberbauer – Strangelove:
Cockpit:
For the start, we could see a poor situation developing at the pin. Although it was the place to be, we chose to start clean down the line and try to stay even with NeNe off the start.
Our plan was to go to the reverse cone, but we needed to wait for Blackhawk, NeNe and Arbitrage. We tacked after Blackhawk, going behind Arbitrage, expecting all of them to tack on us. We were delighted when they continued sailing on starboard out to the left. We sailed deep into the cone until the wind got light, and tacked out for more pressure. We felt the pressure to stay in the cone, but in hindsight would have been better off staying a bit further to the left for pressure. We worked up to the Alcatraz buoy and exchanged tacks with Russian Roulette and Box of Rain, not pulling it off and came out on starboard behind BOR and just ahead of RR. We extended out into better pressure and then tacked onto port for the long tack to the east of Alcatraz. We did not feel super comfortable during this leg. I think in hindsight, we were too tight and not shifting gears fast enough. We saw. consistent 10-12 with short lulls in between and we should have played the jib way more than we did. We tacked onto a perfect layline to the red buoy, perhaps not holding our height as much as we should as we needed a short luff to get around the buoy. It was too close. We got a good set and settled into the run. Nene ran into trouble, giving us an opportunity to move into the second place position. We worked low for the most part until it was clear we were going to be overstood and the started up to give us room to come down for a clean drop. We rounded started in a high mode pointing directly at the finish. RR seemed to favor the shore for relief and out of caution, we favored covering RR, vs heading straight to the line. This caused us to miss fetching anita, we had to tack back out, then tacked back onto port for another cover on RR. We stayed on port until nearly the finish line where we tacked just below the line and crossed in strong adverse current on starboard, almost parallel to the line.
It was a very fine day. Let's do it again in January.
Justin
From Joerg Esdorn – Arrived!:
From the forward cockpit of Arrived!: My lips are sealed as to some key causes of our embarrassing (non) performance, but let me say this in the spirit of contributing to the mutual learning experience, which is much appreciated. Initially, we looked good on the way to Angel with 14 knots of breeze oscillating between 45 and 40 TWD. So then the idea to just wait with a tack over and go for the presumed current shadow of Angel was born. Interestingly, however, we never really found the shadow. On port, we were 2 knots slower on SOG than BSP, on starboard some .7 knots. This did not change much until we were close to the beach. But then, in the last 200 yards, the breeze was down quite a bit so there was no big advantage there although we took several boat lengths of Arbitrage initially. This contrasts with my experience of another winter regatta last year where every time you permitted a boat to get closer to the beach than you, you were giving away boat lengths. Looking at the current charts after the fact, it is now obvious that going left was a clear looser because the adverse current was forecast to be less on the right and with the South Bay ebb, helping with a push from leeward, resulting in a lift and more wind speed. A double whammy. Lesson learned: it's possible to look at the current charts after the start! On the downwind, we did not jibe early enough and we did not line up compass course to Blackaller with COG which would have been a good start to avoid sailing extra distance. And then the disaster of our take down – I should call it a let down instead. Never attempt a letter box drop on a reach! Tom and I are much looking forward to the next opportunity to embarrass ourselves!
Cheers. Joerg