The 2018 J/Stop, hosted May 5-6 by St. Francis YC, was marked by blustery west winds from the mid-teens to upper 20s, and an early flood tide cycle, which combined with city front course position to make most races become a rumble to get right off the line. Only once did the RC cant the pin end enough to entice Arbitrage and Mojo to port-tack the fleet with success. Race wins went to Blackhawk (two), Ne*Ne (two), Donkey Jack, Alchemy, and Arbitrage (one each). Blackhawk took the overall handily, and Maverick was runner-up with consistent top 5 finishes both days. View regatta results HERE and see Chris Ray's photos HERE.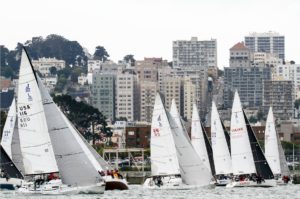 In the 2018 Elite Keel, hosted May 19-20 by San Francisco YC, we saw some top boats ejected from the top five by strong showings from Akula, Jam Session, Juju, and Advantage3 (finishing 2nd through 5th respectively). The circle had wind reports in the 30's on Saturday and oddly moderate conditions Sunday. Sweet, sweet victory came at last to Ne*Ne, Tim Russell and team's first of this maiden season with the new ride. View regatta results HERE.
Bringing us up to date with all the action, a smaller showing of boats ventured to the circle once again for the 2018 San Francisco YC June Invitational, June 16-17, and was treated to another Saturday blast. Enough breakdowns and knockdowns inspired the RC to call it quits after one race. "That's right, Ice..man, I am dangerous," so said Maverick: Ian Charles and team posted a 3-3-1 to take the weekend's overall prize. Akula sailed a great regatta to take 2nd again. View regatta results HERE.