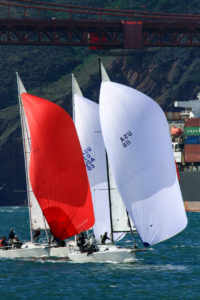 The San Francisco J/105 Fleet is alive and growing with 20 teams on the starting line for each mid-winter race and 25 boats competing this weekend in the St. Francis Yacht Club's Spring One Design, its opening fleet racing regatta of the 2018 season. This was an uncharacteristically light wind regatta due to little gradient as the Central Valley has not yet heated up.  Despite the resultant light winds and building tides, the race committee managed to pull off three races on Saturday and one on Sunday.
The fleet welcomed returning owners Tim Russell and Ian Charles, both highly experienced skippers who had sold their J/105s a few years ago while attending to growing families.  In the past few months each of them bought a well-prepared used J/105, shipped them to San Francisco, and jumped right into the front row for each race.  Nevertheless, Bruce Stone and Nicole Breault on Arbitrage #116 turned in a consistent score line of 4,2, 3, 3 to win convincingly with a total of 12 points, followed by Tim on Ne*Ne #3 with 20 points and Ian on Maverick #385 with 22 points, with Shannon Ryan and Rolf Kaiser on Donkey Jack #26 in fourth with 27 points.
Photo: Arbitrage #116 leading Donkey Jack #26 and Ne*Ne #3 downwind with the Golden Gate Bridge in the background.